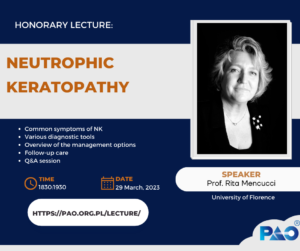 Microsoft Teams meeting
Join on your computer or mobile app
I am excited to announce an upcoming online lecture on neurophic keratopathy by Prof. Rita Mencucci from the University of Florence. The lecture will be held on March 29, 2023, at 18:30, and will be a great opportunity to learn about this disease of the cornea that results from damage to the corneal nerves, and is organised by 
Polska Akademia Okulistyki
 and department of ophthalmology Silesian Medical University.
Neurophic keratopathy can cause corneal ulcers, scarring, and vision loss if left untreated, but early diagnosis and management can greatly improve outcomes. Prof. Mencucci is a renowned expert in this field and has conducted extensive research on the diagnosis and treatment of neurophic keratopathy.
The lecture is open to healthcare professionals, researchers, and anyone interested in learning more about this condition. The best part is that the lecture will be held online, making it easily accessible to anyone from anywhere in the world.
Don't miss this opportunity to gain valuable insights from a leading expert in the field.